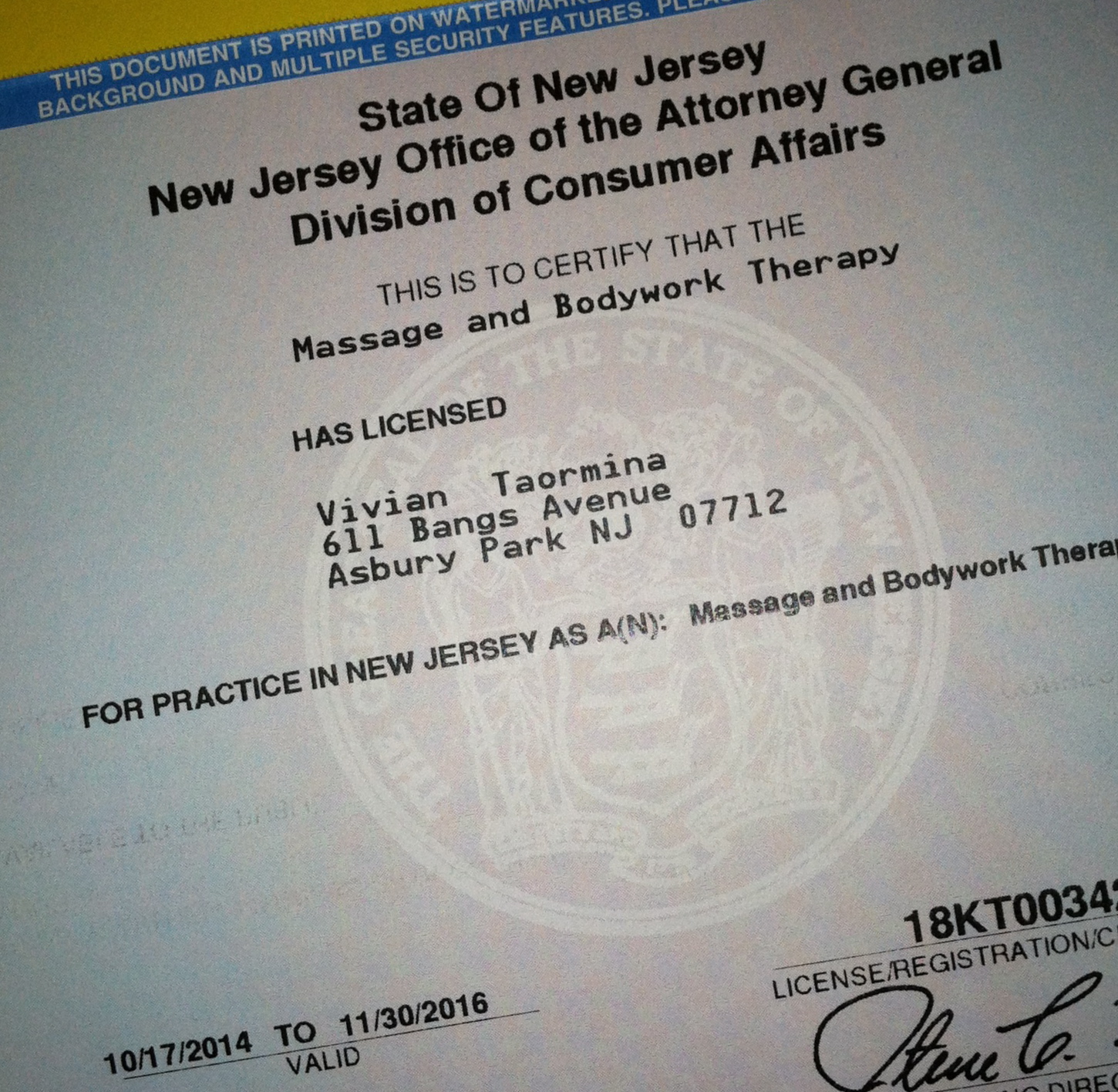 27 Oct

License to practice massage therapy in NJ?

In the State of New Jersey a license is required to practice massage therapy.

Does your massage therapist have a license to practice?
Good news at TAO we are New Jersey State licensed massage therapists.

Does it REALLY matter if I use a licensed massage therapist?

Here is why your therapist needs to have a license and what it means to hold a CURRENT/ACTIVE license:
It's the LAW; it's illegal to practice without one…we shouldn't have to explain more than that, but we will.
Proof of licensure means that a governing body, in the State of New Jersey it is the Division of Consumer Affairs and the Board of Nursing, that has granted us the permission to practice and continues to REGULATE MASSAGE THERAPY professionals along side other governing bodies, of which your therapist is likely a professional member of (in good standing we hope!).
Your therapist is a professional and supports the profession by CONTRIBUTING to the governing bodies that help to enhance and advance our profession
Current licensure means that your therapist has completed, and continues to complete on a biennial basis, a MINIMUM of 20 continuing education credit hours along with current CPR/AED/FIRST AID certifications. What does this mean…this means that the therapist is advancing themselves and their profession by staying current; learning something new and of value to be added to their skill set; this means that the therapist continues to pay for self enrichment and professional classes that MAKES THEM A MORE VALUE THERAPIST.
An ACTIVE license also means that the therapist is actively practicing. Utilizing their hands on knowledge and skills…not letting them get rusty. They are out in the community touching and transforming lives.
The TAO director, Vivian Taormina, has been on professional active status with the State of New Jersey since the beginning of the voluntary massage therapy certification process in 2005 which finally passed into licensure in 2012, and will continue to remain in active licensed status. Taormina is also Board Certified in Massage Therapy and Bodywork which refers to a national level of recognition.
So, YES, it matters. You are making a difference when you support those small businesses and local massage therapists; and you deserve to work with caring, thoughtful, committed professionals who are licensed. It makes a difference.